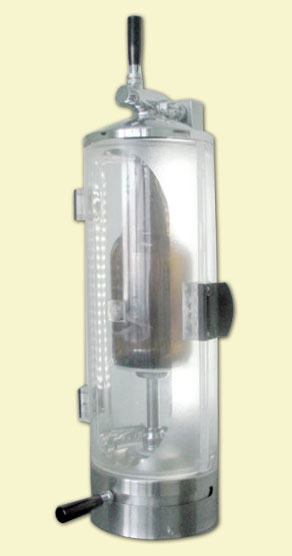 PEGAS CrafTap draft beer dispensers
PEGAS CrafTap is designed to develop the 'take-home' format of draught beer trade. Some bars, pubs and microbreweries all over the world already offer take-out draught beer in glass botttles to their customers. Changing consumer habits and a new global tendency towards home beer consumption make pubs and bars re-consider their traditional 'on-premise' policy. The PEGAS CrafTap is designed to provide microbreweries, bars and pubs a tool for cost-effective draught beer dispensing into take-home containers.
PEGAS CrafTap offers a new service.
Microbreweries and bars/pubs with an off-trade license now can offer their customers a new attractive service – 'take-home draught beer'. Such service will increase the number of customers who want to take their favorite beer out and enjoy it at home or on a picnic. And of course, it will increase the total volume of beer sold.
PEGAS CrafTap offers a new sales channel.
Microbreweries that supply their beers to retail only in kegs now can do cost-effective manual bottling with the PEGAS ™ systems and make their beers available in local supermarkets and liquor stores.
PEGAS CrafTap saves time and efforts.
Bottle-filling with the PEGAS CrafTap is a fast and easy process. Foam and speed regulating options allow operators to control the filling process taking into account degree of foaminess of a certain beer sort and its temperature to provide the best filling procedure for the given beer style.
PEGAS CrafTap saves space.
The PEGAS CrafTap has a compact design and requires only little space on a bar counter or any other horizontal surface where it can be installed. Thus, it contributes to the effective space use.
PEGAS CrafTap is attractive.
Modern European design and special lighting surface make the PEGAS CrafTap look especially stylish. This extraordinary beer dispenser will certainly decorate any bar/pub interior and arouse customers' interest. Beer lovers will want to see the system in operation and try their favorite beers dispensed with it.
PEGAS CrafTap is affordable.
PEGAS CrafTap is an affordable system even for small breweries, bars and pubs. Besides, it has a long service period (over 5 years) and low maintenance costs.
PEGAS CrafTap is a system for fast and foam-free dispensing of beer and other foamy beverages from kegs into glass bottles.
Reduction of Beer Wastage: Up 2% to 0% waste.
Pegas CrafTap uses an unique system that allows the user to determine the amount of foam. Therefore, the user can reduce their waste down to 2-0% while utilizing 98-100% of the product in each keg.
High Filling Rate: 2 liters in 60 seconds.
Pegas CrafTap being a manual system uses the same operating principle found in large beer bottling factories around the world, counter-pressure method. This method ensures the bottles are filled in the way that only automatic fillers can provide - without foam and at a rate two liters in sixty seconds.
Great Variety of Glass Bottles.
Pegas CrafTap gives the user the ability to use a wide variation of bottle sizes and shapes, so they can serve different sizes and bottle styles to fit the individual need of each establishment.
Little Space Required for the Product: 350x350mm.
This is a compact system that is easily installed on any horizontal surface (a bar counter in the bar or a table in the brewery). Pegas CrafTap requires a small amount of space that makes it adaptable in any environment – only 350*350 mm of space on any horizontal surface is needed.
Easy Operations: 15 minutes of training.
Pegas CrafTap requires 15 minutes of training time for a standard staff member. Pegas CrafTap was designed with the same concept in mind as the Pegas taps, it functions like a conventional beer tap to ensure that anyone can use it.