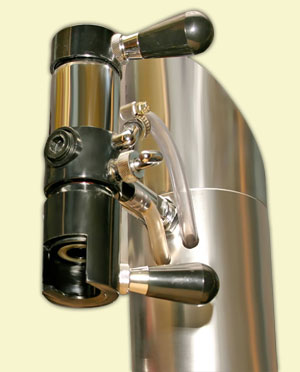 PEGAS creates a new market segment.
Large beer producers now have only two ways of distributing beer: supplying bottled beer for take-home trade and supplying draught beer for on-premise trade. PEGAS systems can help to create a new market segment– take-home draught beer trade. Supplying keg beer to supermarkets, liquor stores, pubs and bars for off-site consumption can become an effective way of increasing draught beer sales.
PEGAS offers a winning way of promoting beer brands.
Russian market serves as the brightest example of a highly-developed system of draught beer stores. This take-home draught beer trade can be viewed at as an alternative way of selling beer in the countries where only traditional 'on-premise' and 'off-premise' trade exist. Introduction of a new beer trade format will allow beer producers to attract additional customer attention to their beer brands.
PEGAS cuts the way of beer to end consumers.
PEGAS can be mounted to mobile after-fermentation tanks delivered from breweries to retail outlets. A long and multi-layered way "brewery – beer distributor – retail outlet – end consumer" is reduced to "brewery - end consumer". PEGAS cuts beer way through beer lines, as a result, customers get the opportunity to enjoy premium quality fresh beer in the places where they could buy only pasteurized beer before.
PEGAS is a system for fast and foam-free dispensing of beer and other foamy beverages from kegs into PET bottles with PCO and PBF neck standards.
Reliability
Main parts are made of chrome-plated brass and ABS-plastic. It ensures a long performance life of the bottle-filler on condition that all cleaning procedures are properly and regularly done.
Ease of Operation
Operation procedure of the PEGAS systems differs from a conventional beer tap as beer is dispensed in CO2 environment and CO2 supply to the bottle is needed. However, it just requires a 5-minute training for operators to understand the filling procedure. With practice it becomes only better and filling rate considerably increases. The normal filling rate is 45 seconds for 1.5 ltr bottle.ebí kupovat náhradní díly. Jednorázový výdaj na nákup daného zařízení se rychle vrátí a již brzy se obrátí v zisk.