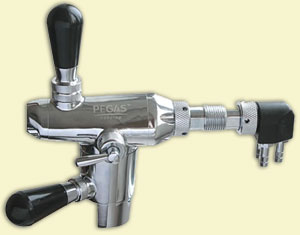 PEGAS offers a new winning way of draught beer sales
Supply of beer in plastic bottles to liquor stores and supermarkets can become a great opportunity for microbreweries to increase beer sales volume. Microbreweries that do not bottle their beers, supply them to retail in kegs and have only an on-trade license, can do cost-effective manual bottling with the PEGAS ™ systems and make their beers available in local supermarkets.
PEGAS increases beer sales volume.
Microbreweries and brewpubs, with an off-trade license, can offer their customers take-out draught beer in plastic bottles. The use of plastic bottles as a take-home container can become a great success on the local market. Microbrewers will satisfy local customers who want to consume draught beers at home and give a chance to sample their beers to visiting customers (tourists, beer distributors, importers of beers, etc.)
PEGAS makes a server's work easier.
Bottle-filling with the PEGAS systems is a fast and easy process. Foam and speed regulating options allow operators to control the filling process taking into account degree of foaminess of a certain beer sort and its temperature to provide the best filling procedure for the given beer style.
PEGAS brings more profits.
Our analytical research of draught beer market in Novosibirsk, the third largest city in Russia, has shown that the average volume of draft beer sales is 15,000-18,000 liters per retail outlet per month. Retailers have a fixed profit from selling each liter; it means that selling more beer brings higher profits. PEGAS has already won the favor of Russian retailers and continues to stimulate opening of more draught beer points of sales.
PEGAS provides the opportunity to sell a wide range of beverages on tap.
PEGAS allows retailers to sell any carbonated beverages: beer, cider, wine, kvass, lemonade, fizzy juices, mineral water, etc., including especially foamy types, even without preliminary or sufficient chilling. It becomes possible due to the counter-pressure method applied in the PEGAS systems.
PEGAS allows a more effective use of trade areas.
Effective use of trade areas means selling more beverages in less space. In a retail outlet occupying 8-10 sq.m. there can be installed up to 10 PEGAS bottle-fillers and sold up to 10 beer sorts. In a retail outlet occupying 10-20 sq.m. there can be installed up to 30 PEGAS systems and sold up to 30 beer sorts.
PEGAS NovoTap is a system for fast and foam-free dispensing of beer and other foamy beverages from kegs into PET bottles with PCO and PBF neck standards.
Ultimate reliability and durability
All parts and connecting elements are made of chrome-plated brass and stainless steel. It increases wear–resistance of the system and guarantees ultimate operational reliability.
Easy installation and operation
The PET bottle-filler NovoTap requires the same equipment for its installation as a beer tap and is operated on the analogy with a beer tap(gas supply to the bottle is the only difference). So, two-minute training is enough for servers to learn its operation procedure.
Attractive design
It has a streamline shape and hi-tech design. Besides, all hoses(for beer and gas supply, drainage) are located inside the body that makes the system even more attractive. It will become a stylish element of any interior.
Low possession cost
The prolonged performance life of the PEGAS NovoTap allows saving time and money on its maintenance. There won't be a need for purchasing spare parts. One-time expenditures on the purchase of the system will pay back quickly and then the system will start to save profits.